1.5 Ton
18000 BTU
R 410A Gas
1.Reliable DC components.

2.High Efficiency and Saving Energy.

3.Precise Temperature Control.

4. Super Quiet.

5.Self-Cleaning

6.Plasma Dust Collector.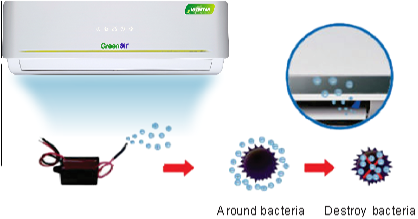 TECHNOLOGY
Providing the latest in air comfort technology is Daikin's mission. Consult your nearest Daikin representative to learn what special features are built into the models in your area.
Humidifying / Dehumidifying
Daikin technology manages humidity at any temperature without need for a water tank in providing users with the best in convenience and air comfort. (Ururu Sarara)
Heat Pump Performance
Both extremely hot and cold regions use and depend on the efficiency of heat pump technology to achieve energy savings.
Quiet Operation
Low operation sound has been achieved for greater comfort and quiet environment.
Green Air Inverter Split AC 1.5 Ton Full DC Heat & Cool GAW 18KIR GAC 18KIRT